BRIGADIER George Lowder MBE
Chairman of Trustees
George Lowder took up the post of Chief Executive of Transport for Edinburgh in January 2016, where he is responsible for the delivery and development of an integrated transport network for the Edinburgh City region. Prior to this George served in Defence for almost 35 years. He was commissioned into The Royal Scots (The Royal Regiment) in 1981, having attended George Heriot's School in Edinburgh. On commissioning, he studied Scots Law at Aberdeen, graduating in 1986. He gained a master's degree from Cranfield University in 1995 and studied personnel management at Strathclyde University in 2002.
As a young officer he served in The Falkland Islands, Germany, the UK, Northern Ireland, Canada and the 1991 Gulf War. He spent 2 years instructing at The Royal Military Academy Sandhurst. He was then appointed Chief of Staff of a Germany based Armoured Brigade, deploying to Bosnia in 1996; awarded a Queen's Commendation for Valuable Service for this tour of duty and made MBE in 1998. He holds the US Bronze Star from a tour in Afghanistan.
He has commanded at every level from Platoon to Brigade, deploying on operations in UK, Northern Ireland, Iraq, Afghanistan and The Occupied Palestinian Territories.
His last appointment was as The Director of Defence Intelligence Operations, responsible for global operations, across the enterprise.
In August 2019 he was appointed Chair of UK Tram Ltd. He is a Vice President of The Edinburgh Chamber of Commerce and a Trustee of The Royal Regiment of Scotland (chairing their Finance and Investment Committee). He chairs The Governing Body of Scottish Veterans' Residences. George is President of The Regimental Association. On 29 June 2020, George took over from Mark Strudwick as The Chair of The Royal Scots Club Trustees.
.
Major General Bob Bruce CBE DSO
Vice Chairman of Trustees
Bob Bruce was commissioned into the Royal Scots in 1987. His early service was spent in Germany and Scotland and on operations in northern Ireland and the Gulf. He commanded C Company in Colchester and Northern Ireland. He was the last Commanding Officer of 1RS, having taken over on operations in Iraq. He led the merger of 1RS and 1KOSB to form 1SCOTS in 2006 and then commanded that new battalion on operations in Iraq in 2007/8.
Bob commanded 4th Mechanised Brigade from January 2011 to May 2013, which included a period in command of the British-led Task Force in Helmand, Afghanistan.
For his leadership on operations, he was awarded the DSO in 2013 and was made CBE in 2016.
Time on the staff has included tours in the MOD, the Army HQ and the Pentagon, USA. He was the Army's Director of Capability and a member of the Executive Committee of the Army Board in 2015 / 16.
Bob's final job in uniform was Military Secretary and General Officer Scotland. On retiring from the Army in 2019, he joined the Royal Bank of Scotland Group (now NatWest Group) in early 2020, working in the Risk Function.
Bob is married to Lorna and they have two grown up children. Beyond work, his interests include keeping fit, golf and fly fishing.
David Nisbet
Before finishing paid work, David was a human resources professional with blue chip companies in a number of sectors. Prior to working as a consultant, he was the HR director of William Grant and Sons and spent a couple of years running their huge grain distillery at Girvan. He was seconded from BP to the Army for a 3-year short service commission with The Royal Scots, joining 6 platoon, B Company in Osnabruck alongside such luminaries as David Beveridge, Jim Blythe, Paddy Millar and John Sands and then with 1/52 Lowland Volunteers until 1976. .Before returning to BP he went on two tours to Northern Ireland and exercises in Norway and Greece. Interests include cooking, gardening, renaissance and choral music and offshore sailing.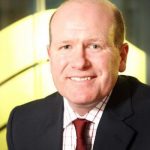 Lieutenant Colonel Dickie Donovan MBE
Dickie is currently Programme Lead Covid19 Vaccination Workforce, Scottish Government. Prior to that he was People Director for William Jackson Food Group, working with former Royal Scots Norman Soutar and James Watson. Dickie was a Royal for 26 years, joining the battalion in 1987 in Werl during the Cold War and going on to see operational service in Northern Ireland, the First Gulf War, Bosnia and Iraq. He held a variety of command and staff appointments, including as Adjutant in Fort George, command of Reconnaissance / D Company in the Balkans and Iraq, Battalion Second-in-Command in Iraq and two tours in the Army Personnel Centre as a career manager. He attended the Joint Services Command and Staff College in 1998, attaining an MA in Defence Studies from Cranfield University. He completed his service in the rank of Lieutenant Colonel and was awarded the MBE for operational service in 2006.
Dickie is married to Sarah and they have a daughter, Katie. In his limited spare time enjoys cycling, swimming, chess, game shooting and hillwalking.
Captain Alex Dockar
Alex owns a Wealth Management business based in Melville Street, Edinburgh. He graduated from the University of Dundee (MA Accountancy and Economics), initially working for Ernest & Whinney before being accepted for officer training at The Royal Military Academy, Sandhurst. Alex served as a commissioned officer with the 1st Battalion The Royal Scots (The Royal Regiment) in Germany, Northern Ireland, Scotland and during the 1991 Gulf War. In 1994 he returned to the financial services profession developing his career within the wealth management and Private Banking sectors. In 2006 he set up and continues to run his practice advising private clients, entrepreneurs, land owners, trusts and executorships in London and Edinburgh.
Lieutenant Colonel Gordon Rae
Lt Col Gordon Rae graduated from RMA Sandhurst in 1974. He served for 36 years in NI, UK, Germany, Sinai, Australia and the 1991 Gulf War filling various appointments at Regimental duty and major HQs. During his time he graduated from the Open University (Maths and Technology) and Cranfield University (Master of Engineering and a Master of Defence Administration); he is also a qualified Project Manager by the APPM and a PRINCE 2 Practitioner. After retiring in 2010 he joined the Civil Service as Protocol Officer for GOC 2 Div/HQ Scotland, responsible for all State Ceremonials in Scotland. During this time he was a Trustee of the Kohima Educational Trust. He retired in 2015 and is now Chair of the Museum and Heritage Committee.
.
Major Norman Soutar MC
Norman joined the Army in August 1978 starting at the Scottish Infantry Depot Glencorse as a Royal Scot recruit; eventually joining the 1st Battalion in Edinburgh in June 1980 after completing officer training at Sandhurst. His last appointment with the 1st Battalion was commanding A Company from 1989 to 1991.
Norman joined the food industry courtesy of Sir John Nott, who also commanded 5 Platoon albeit thirty years before Norman, and for the last twenty years Norman has led a number of food businesses. Norman recently stood down from his executive career but continues as a Non-Executive Chairman and advisor to several Companies. He divides his time between Edinburgh and Toulouse.
Brigadier Robbie L Scott-Bowden MBE
Robbie was commissioned into The Royal Scots (The Royal Regiment) in 1974, joining the 1st Battalion on their return from Cyprus. Over the next 23 years he bounced from regimental tours, commanding platoons, in all the Companies, being Adjutant and commanding B company (AFV 432 and Warrior), and various training and operational staff appointments,, culminating in command of the 1st Battalion (1994-97) in the light role in Fort George and South Armagh, and for his last 6 months in the airmobile role at Colchester.
In his remaining 14 years in the Army he enjoyed tours in the Permanent Joint Headquarters at Northwood, the Procurement Executive, Edinburgh Castle (commanding 52 Infantry Brigade), Headquarters Infantry as the Director of Infantry, and lastly at the Defence Academy.
He was the Colonel of The Royal Scots (26 July 2005 – 28 March 2006), the last Colonel before the Regiment was merged into The Royal Regiment of Scotland.
Married to Nicky with a daughter and son. On retiring from the Army he enjoyed three years with ABF The Soldiers' Charity before trying his luck in the Oil & Gas business.

Major Stu Marshall
Stu Marshall joined the Bn in 1983 after passing out of training at Bridge of Don. He served as a soldier till 2006 including serving in all Companies in the Bn and as a Trg Cpl at Glencorse, Pl Sgt at Catterick and as a CSgt at RMAS. He was A Coy CSM, RQMS(T) then selected to be RSM of the London Regiment before returning to 1RS to be the last RSM of the Bn. Post 2006 he has secured roles as SO3 G1/G4 at HQ 51 Bde, PSAO at 243 Pro Coy and as SO2 Trg at APC. From 2006 – 2008 he was Chair of the Scottish branches of the Association and has now returned to be Chair of the Royal Scots Association and also a trustee of the Regiment and sees the role very much as a conduit to ensure the voice of the soldiers and veterans is heard.
Advisers to the Regimental Trustees
Legal Advisor, Mr Keith Oliver
Governance Advisor, Mrs Jandy Stevenson
Secretary, Lieutenant Colonel David Jack