During the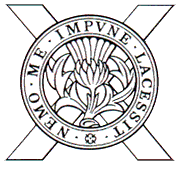 1850s and 1860s a number of Volunteer Units were raised, controlled by the Lord Lieutenants of Counties. In 1888 control was taken over by the War Office and they were grouped with regular infantry units. The Royal Scots expanded to include seven volunteer battalions.
In 1908 these battalions were converted into the Territorial Force and the 4th, 5th, 6th, 7th, 8th, 9th and 10th Battalions of The Royal Scots (Territorial Force) were created. Early in the 1st World War these expanded to twenty one battalions but it was impossible to sustain that number and they were later reduced. After the war the Territorial Force was reorganised into the Territorial Army (TA) and The Royal Scots retained the 4th (Queens Edinburgh Rifles), 5th (Queens Edinburgh Rifles), 7th (Leith) and 9th (Highlanders) Battalions. In 1922 these were reduced to the 4th/5th (Q E R) and 7th/9th (Highlanders) Battalions.
Prior to the 2nd World War the 4th/5th converted from infantry to manning searchlights and in 1940 became an anti-aircraft regiment of the Royal Artillery. The 8th (Lothians and Peeblesshire) Battalion was reformed in 1939.
During the war the two T A battalions, 7th/9th and 8th fought in T A formations, the 52nd Lowland Division and 15th Scottish Division. They remained until 1961 when they amalgamated to form the 8th/9th Battalion.
In 1966 a major reorganisation took place and the T A was disbanded and the Territorial Army and Volunteer Reserve (T A V R) formed.
Instead of forming reserve formations, the role of the new T A V R was to provide individual and unit reinforcements for the Regular Army. A new regiment was raised in the Lowlands, The 52nd Lowland Volunteers. Officers and soldiers from the old 8th/9th Battalion formed A (Royal Scots) Company of this new battalion. In 1971 a second battalion was raised, 2nd Battalion 52nd Lowland Volunteers of which No 1 Company was a Royal Scots Company.
In 1982 the T A V R reverted to the old title of the Territorial Army. In the same year both Royal Scots Companies were grouped together in the 2nd Battalion as No 1 (Royal Scots) Company and No 2 (Royal Scots) Company.
In 1992 the 2nd Battalion was reduced in size and only "A" Company remained as a Royal Scots Company.
A further re-organisation in 1995 resulted in the battalion being redesignated The Lowland Volunteers with HQ Company and the Bathgate Platoon being Royal Scots.
As a result of the Strategic Defence Review, the TA was again reduced in size in 1999. The Lowland Regiment became the sole TA Infantry battalion in Lowland Scotland with The Royal Scots element being A (Royal Scots) Company including the Military Band based in Edinburgh, and with a platoon in Bathgate. On the formation of The Royal Regiment of Scotland in 2006, The Lowland Regiment became its 6th Battalion.
In 2014 The Territorial Army was renamed The Army Reserve.