THE ROYAL SCOTS TERRITORIALS IN THE DARDANELLES CAMPAIGN 1915-16
Introduction
The Territorial Force (TF) was formed from the former Yeomanry and Volunteer Forces in 1908. Their role was to provide Home Defence to replace the Regulars deploying with a British Expeditionary Force (BEF) overseas. Individuals, provided they met the standards for regular enlistment, and units could, however, volunteer for overseas service on mobilisation. In the cases of the seven Royal Scots (RS) TF battalions mobilised on 4 August 1914, all immediately volunteered for overseas service and six of them began raising second, based on those either ineligible or not volunteering (very few) for overseas service and, later, third battalions. The role of these new TF battalions was to replace their, now, first battalions in their home defence roles and to provide reinforcements to the latter if and when they deployed overseas. The only battalion not to immediately raise a second battalion was 6RS who initially provided two companies of reinforcements to 4RS and one to 8RS to bring them up to war establishment. 7RS were similarly reinforced with two companies from 8HLI who also sent one to 8RS, amongst who was Lance Corporal Angus who was awarded the VC in 1915. 6RS raised a second battalion in early 1915 before it itself deployed to Egypt in August 1915.
Four battalions of the Regiment took part in the Dardanelles/Gallipoli campaign from April 1915 to January 1916. Three of these were TF battalions, 4, 5 and 7RS and the fourth was the 1st Garrison Battalion. The first three played major roles in the Gallipoli operations landing in the order 5RS, in the initial landings of 29 Division on 25 April, followed by 7RS and 4RS with 52(Lowland) Division in the second phase landing between 11 and 14 June. The 1st Garrison Battalion deployed as a labour battalion in early November to the Greek island of Lemnos, 50 miles west of the Gallipoli Peninsula, on which the Army Headquarters and Administrative Base was established around the port of Mudros, with detachments deployed at Cape Hellas on the point of the peninsular itself. They lost four men whilst there and before withdrawing to Egypt where, with elements in Cyprus, they remained until returning to Scotland and disbanding in May 1919. Their service in Gallipoli earned them a First World War 'King's Colour' which was a very rare award for a Garrison battalion.
This short paper covers the key deployments, strengths and casualties of the TF battalions. Fuller details of their actions can be found in Pontius Pilate's Bodyguard Vol 1 pp 270 -291 and The Royal Scots 1914-1919 Vol 1 pp 116-171.
5RS
In March 1915 5RS was posted to 88 Brigade of the regular British 29th Division who, with Australian and New Zealand (ANZAC) and French forces, were tasked with landing on and capturing the Gallipoli Peninsular (see map) after a joint British and French Fleet had failed to force the Dardanelles in a straight naval operation aimed at threatening Constantinople (Istanbul). The Battalion sailed on the SS Caledonia from Avonmouth on 20 March, arriving at Alexandria on 2 April. It sailed on from there on 11 April and reached Lemnos on the 13th, leaving for Gallipoli in the assault fleet on the 24th. Two companies landed on W Beach at about 12.30 the next day without casualties and moved up to establish support trenches.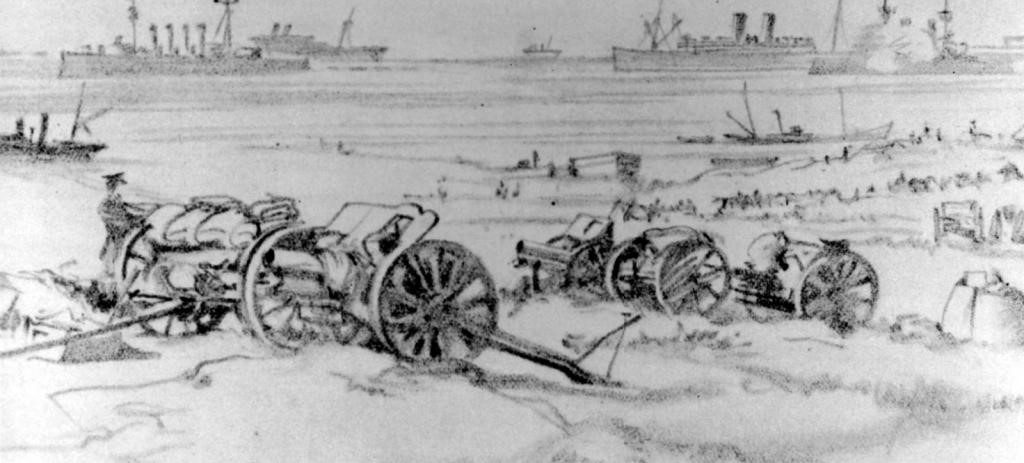 W Beach Cape Helles (Drawn by 2nd Lt Hislop 5 RS)
The other two companies remained in the Beach area unloading stores until 4 May. The two landed companies took part in the major attack on 28 April that attempted, but failed, although advancing some two miles, to reach and capture the dominating feature of Achi Baba which had been the objective for the 25th and, without which, the whole campaign was doomed to fail. On the night of 1 May the Turks launched a major attack to drive the Allies back into the sea, breaking through the British line in several places. The two companies of 5RS were in reserve trenches but immediately launched a counter-attack at one of the breaches, driving the Turks back at bayonet point. Confused fighting continued throughout the night and, by dawn, both sides were back where they had started, Without doubt, however, on the night of 1/2 May 5RS had demonstrated that, although a TF battalion, they possessed fighting qualities to match those of the regular battalions of 29 Division. On 4 May the two companies that had been employed unloading stores rejoined the rest of the Battalion. The whole Battalion then took part in the next major attempt on Achi Baba, on 7/8 May, with no more real success gaining only a few hundred yards for considerable loss. Over these operations nine officers were killed and 13 wounded, 22 out of the 28 that had landed only some two weeks earlier. No details of soldier casualties are given in the War Diary but they must have been of similar proportions as, by 6 May, the Battalion strength was down to 600. The Battalion rotated between the front line and reserve trenches over the next month but did receive first reinforcements of three officers and 98 men from 2/5RS on 27 May and, on 1 June, a further 11 officers, of which six came from 14RS, a 'reserve' New Army battalion. A further draft of 2 officers and 168 men arrived from 2/5RS on 10 June.
Fighting on the Peninsula, although still referred to as 'trench warfare', was very different from that in France. In many cases the opposing trenches were much closer and, with much less in the way of wire obstacles in 'no man's land' between them, greater alertness was required to prevent sudden attacks. In a number of cases opposing trenches were in bombing (grenade) range of each other and home-made grenades were fired at the enemy from improvised catapults. Nowhere on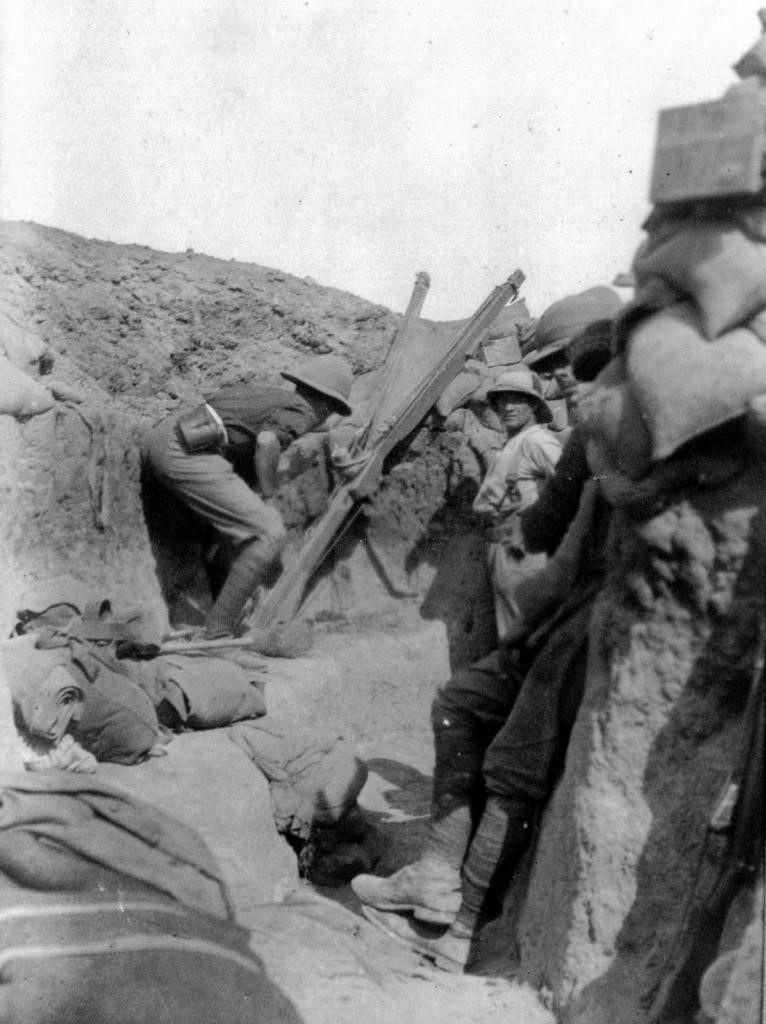 Home made grenade launcher
the Peninsula was absolutely safe from Turkish bullets. It was often safer to be in the protection of front-line trenches. Those troops in reserve were more vulnerable to snipers, a number of whom continued to operate behind the Allied lines (see CQMS Dewar in the 4RS section). Furthermore the heaviest shelling, including from very large calibre Turkish guns firing across the Dardanelles, invariably fell on the rear trenches and the so-called rest camps near the beaches, At least in France, when you were 'out-of-the-line', you were safe from enemy fire and could have showers, a change of clothes and a proper rest.
On 19 June the Battalion distinguished itself by recapturing, with a bayonet charge, a trench which had been lost by another unit to a Turkish counter-attack, but at a cost of 60 casualties. The CO, Lieutenant Colonel Wilson, now the only officer left with the battalion from those who had landed on 25 April, was awarded an immediate DSO and other awards included two MCs and three DCMs. This rare success, particularly for a single battalion operation, brought personal congratulations from every level of command up to General Sir Ian Hamilton, the overall Commander of the Dardanelles operations, as well as The Lord Provost of Edinburgh. The next major advance was on 28 June, in conjunction with the newly arrived 52 (Lowland) Division, including 4RS and 7RS, as part of the last major attempt to gain Achi Baba. Although 5RS achieved its immediate objective, without any artillery support, it was at a terrible cost of 34 killed, 156 wounded and 80 missing believed killed. In spite of receiving quite substantial reinforcements in the preceding month the battalion was now down to an effective strength of only one company.
On 11 July the Battalion was withdrawn to Lemnos for rest, returning to the peninsular on the 28th. On 12 August Lieutenant Colonel Wilson handed over command on promotion to command an ANZAC Brigade. On 21 August the Battalion took part in the landings at Suvla, some 15 miles up the west coast of the Peninsula, in an abortive operation aimed at outflanking the Turkish positions to the south. From 31 August to 7 September it was again withdrawn, this time to the island of Imbros, before returning to Suvla, and the Peninsula, for the last time. On 18 October, after a quiet tour, and now barely 100 strong, 5RS was withdrawn to Lemnos where it remained until the end of the campaign, sailing from there to Alexandria on 7 January 2016.
5 RS cleaning rifles at Suvla
5RS Strengths
20 March Embarkation 30 officers 1012 ORs Total 1042
25 April Landed Gallipoli 28 officers 941 ORs Total 969
By 3 October Killed 23 officers 319 ORs (Number taken from post-War records)
Wounded 22 officers 797 ORs (No record held. Based on 2.5:1 killed)
Total estimated casualties. 45 officers (161%) 1116 ORs (119%) (% against landing strength)
Reinforcements (mostly from 2/5RS) 39 officers 306 ORs
Estimated strength on leaving Suvla 22 Officers (but probably many fewer) and 131 ORs
7RS
In April 1915 7RS joined 156 Brigade of 52nd (Lowland) Division at Larbert, near Stirling, expecting to deploy to France. As a result of the stalemate after the initial landings in Gallipoli the Division was diverted there. Early on the morning of 22 May the Battalion boarded three trains, two troop and one stores, the latter including the battalions horses and carts, heading for Liverpool to embark, with 4RS, on HMT Empress of Britain for Alexandria. The first, with Battalion HQ, A and D companies on board, totalling 15 officers and 483 ORs left Larbert at 3.45am. At 6.40am it ran head on into a local train parked on its line at Quintinshill, just north of Gretna. The crash was followed a minute later by a London to Glasgow overnight express piling into the wreckage. What followed was the worst disaster in the history of British railways. From 7RS three officers and 213 ORs were killed and five and 215 injured. Only seven officers and 55 ORs were uninjured and continued on to Liverpool from where one officer and the 55 ORs returned to Edinburgh while the remaining six officers including the CO, Lieutenant Colonel Peebles, sailed for Alexandria with B and C Companies. They arrived there on 3 June, had five days ashore, and then re-embarked for Lemnos, arriving there on the 11th, and sailing to Gallipoli, by small cargo ship, the next day.
The Battalion, still only two companies strong, played a major part, with 4RS, in the battle of Gully Ravine on 28 June where they lost 11 officers and 230 ORs killed, wounded or missing (presumed killed). On 7 July, pending the arrival of reinforcements, particularly of officers for 4RS, the surviving elements of 7RS combined with those of 4RS into a single battalion of three companies, one 7RS and two 4RS, under Lieutenant Colonel Peebles. The merged battalion was again in a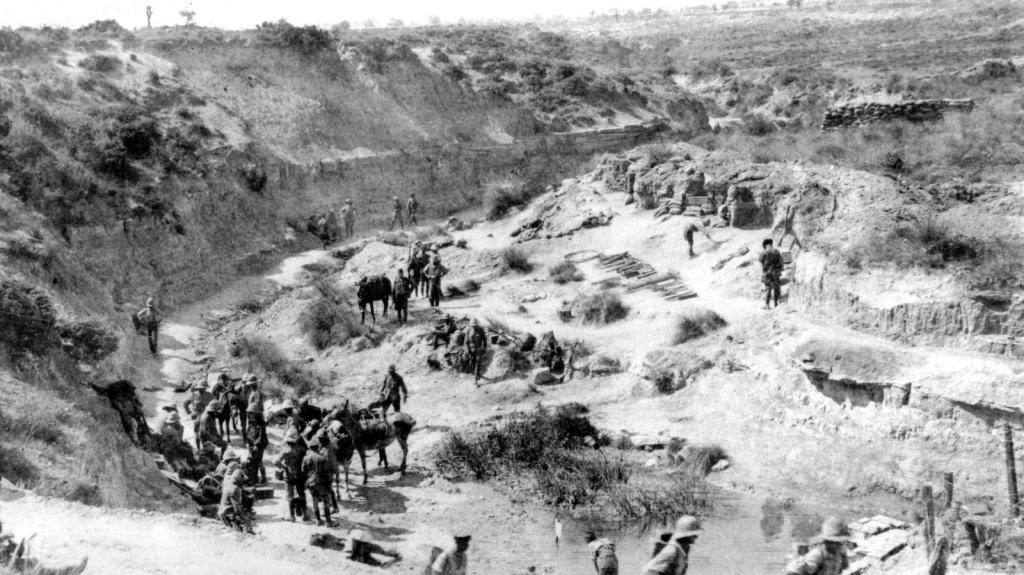 Krithnia Nullah to the East of Gully Ravine
major action on 12-15 July when the 7RS element suffered a further 53 casualties. On 11 August the 'merger' ceased with the arrival of a new CO and other officers for 4RS. 7RS, however, were still only at a strength of nine officers and 159 ORs formed into two small companies each of two very under strength platoons. Ten officers arrived that day, however, followed on 13 August by a further 13 officers and 440 ORs from 2/7RS, including many of those who had been injured in the Gretna crash but had now recovered. The Battalion was reorganised onto four companies each with an 'old' platoon, A Company with the Gretna survivors, B Company with the 2/7th reinforcements and C and D Companies with the earlier, pre-deployment, 8HLI reinforcements. On 21 September the War Diary records that '25 Newfoundlers and one officer joined for instruction.' This is the first recorded meeting between The Royal Scots and what was to become one of our allied Regiments, The Royal Newfoundland Regiment. Newfoundland was an independent Dominion until it joined with Canada in 1949. Its 'army' therefore served within British formations rather than Canadian ones during WW1. For the rest of its tour the Battalion remained on the Peninsula, combining again with 4RS into a single battalion, known as 7RS, from 4 November. On 9 January 1916, at 3am, 7RS were the last element of 52 (Lowland) Division to withdraw from Gallipoli. On 19 January the Battalion left Lemnos for Alexandria.
Strengths
22 May Entrained Larbert 31 officers 1026 ORs Total 1057
23 May Embarked Liverpool 20 officers 477 ORs
12 June Landed Gallipoli 18 officers 458 ORs
15 July (After Gully Ravine) 6 officers 169 ORs (83% casualties since Larbert)
22 January 1916 in Egypt 20 officers 336 ORs
(With the 23 officers and 440 ORs noted as reinforcements in the War Diary, 7RS's casualties from departure from Larbert, exactly eight months earlier, totalled 34 officers and 1110 ORs or 108% of the entrained strength).
4RS
4RS, including the considerable reinforcement from 6RS, were brigaded, with 7RS, in 156 Brigade of 52 (Lowland) Division in April 1915 and, like them, left Larbert on 22 May for Liverpool to embark and sail for Alexandria on HMT Empress of Britain on 23 May, and later on to Lemnos. Their crossing from Lemnos to Gallipoli on the night of 12 July almost ended in as big a disaster as 7RS had suffered at Gretna. Battalion HQ and two companies where embarked on HMS Reindeer, which, while steaming unlit at 17 knots, rammed and sank an equally unlit, but fortunately empty of casualties, hospital ship. HMS Reindeer was in grave danger of sinking as well. The 4RS 'passengers' were assembled on the upper deck, without any lifejackets and with no panic. Reindeer then returned, under tow and stern first, to Lemnos with the soldiers being moved from side to side to trim the ship. Their 'gallant behaviour', before they had even joined the battle, was acknowledged in a General order from General Sir Ian Hamilton who, coincidentally, was Honorary Colonel of 9RS. 4RS eventually completed its landing at W Beach on 14 June. It moved into the front line on 19 June, relieving its sister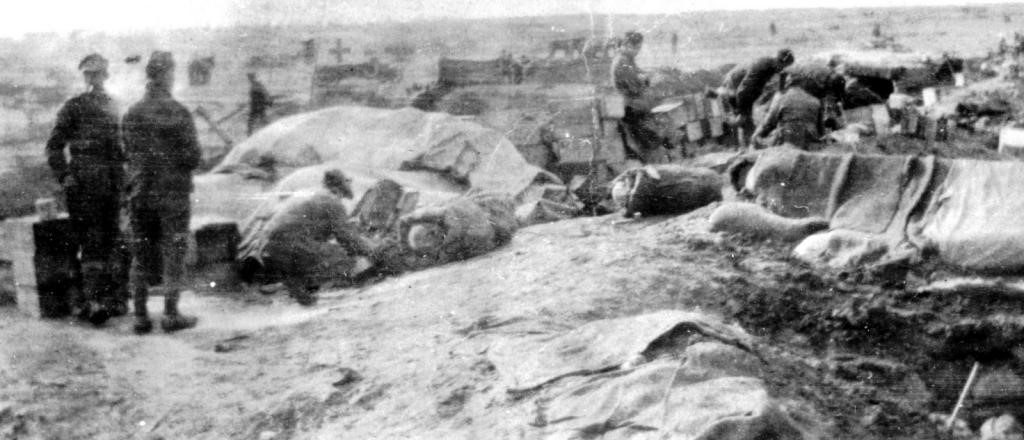 RS in the Gallipoli rear areas
battalion, 5RS (before the TF reorganisation of 1908 the two battalions had been the 1st and 2nd Battalions of The Queen's Edinburgh Rifle Volunteers). This was the only time the two battalions 'crossed' in Gallipoli. 4RS took early casualties from shell and rifle fire. It was not one-sided, however, as the Battalion had always been proud of its shooting achievements, winning many prizes at Bisley. CQMS Dewar, who had won the King's Prize, the individual Championship, there in 1914 now killed a Turkish sniper with his first shot in anger. This led to the GOC congratulating him saying his 'skill and proficiency as King's prizeman was of eminent value to his country in the field' to which the Corps Commander added 'Sergeant Dewar never made a 'bulls-eye' at Bisley as he did on this occasion'.
On 28 June the Battalion led the Brigade assault in Gully Ravine, taking all its objectives and repulsing two immediate and major counter-attacks for which the GOC signalled 'Well done Royal Scots'. As mentioned earlier, however, the attack, across the whole front, failed in its main objective of securing Achi Baba. Casualties were very heavy with nine officers, including the CO, and 57 ORs killed, 7 and 147 wounded and 6 and 141 missing, presumed killed, a total of 22 and 345 casualties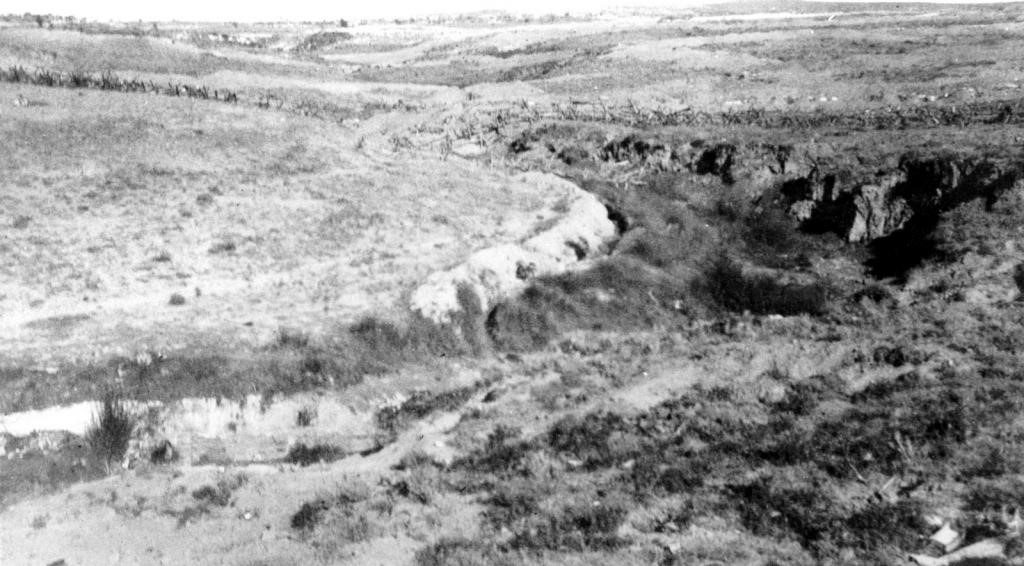 View looking North from the British front line across Turkish wire. Achi Baba on the skyline
or over three-quarters of the officers and one-third of the Battalion's OR strength in a single day two weeks to the day after landing in Gallipoli. On 6 July the Battalion, at a strength of 5 officers and 519 ORs, forming two companies, amalgamated with 7RS 'as a tentative measure pending the arrival of reinforcements'. These came on 10 August with 14 officer reinforcements, including a new CO, Colonel Young. 4RS reorganised as a separate Battalion and moved back into the line. A further six officer reinforcements reported on 19 August. The Battalion remained in front line or reserve trenches throughout September and October. There are frequent mentions in the War Diary of aircraft activity over the lines. At the end of October mention is made uncertain weather and very varying temperatures affecting the general health of the Battalion; '6 officers (including the CO) being sent to hospital (in that month alone) chiefly from jaundice and dysentery'. Although only mentioned in the 4RS War Diary, the same problems affected all those serving in Gallipoli from the earliest days. Despite several truces arranged to recover and bury the dead there was a constant smell of a mix of human excrement (diarrhoea was a major problem and troops could not leave their trenches for proper field latrines) and that from bodies decomposing in the heat. Swarms of flies and mosquitoes, and pervasive dirt and sand were everywhere. Every drop of water on the Allied side had to be brought to the Peninsula by sea. Consequently it was mostly used for cooking and drinking. There was never enough for the latter especially in the heat of the summer. Even less was available for personal hygiene which made the troops more susceptible to sickness and disease. At night the temperatures plummeted and men found it difficult to sleep, even without the almost constant noise of the guns.
The Battalion strength as at 31 October had shrunk to 12 officers and 330 ORs but the 'efficient rifle strength' is given as only 181 – or well under one company's establishment. As a result, on 4 November, the Battalion again formed a composite battalion 'for tactical purposes' with 7RS, to be named 7RS, which remained the organisation until the end of the Campaign and until it reached Egypt after the withdrawal. On 15 November the Battalion successfully attacked and held a Turkish trench to their front, with very low casualties, and which was subsequently held against a counter-attack, earning a message of congratulations from the Corps Commander. The weather deteriorated rapidly from that point with heavy rain and snow flooding trenches and dugouts, the former becoming canals forcing men to stand precariously on the narrow fire-steps and risking becoming targets for snipers. One particularly violent storm, with hurricane force winds, rain, sleet and snow, swept the Peninsula from 26 -28 November destroying the piers and lighters on the beaches upon which the Force was entirely dependent for its supplies. This only strengthened the arguments for abandoning the campaigns, a decision which followed in December. 7RS remained in the lines to the very end, being the last unit of 52 (Lowland) Division to leave Gallipoli at 3am on 9 January 1916. In contrast to the failure of so many operations during the campaign the withdrawal was a brilliant success with the whole force slipping away unnoticed and without casualties. The luck which had surrounded 4RS on their aborted arrival on HMS Reindeer reappeared on their departure on the battleship HMS Prince George. Soon after sailing from Gallipoli she was struck by a torpedo but it failed to explode. The composite Battalion left Lemnos for Alexandria on 19 January, arriving at Alexandria on the 21st and moving inland to Abbassia where, on 25 January, Colonel Young having returned from hospital, the Battalion reformed as 4RS.
Strengths
22 May Entrained Larbert 31 officers 995 ORs Total 1026
25 January having reformed at Abbassia 20 officers 278 ORs Total 298
Casualties Killed 12 officers 207 ORs, including 35 from 6RS. Total 219 (There are very few details of wounded in the 4RS War Diary, other than seven officers on 28 June)
Reinforcements 29 officers 62 ORs, all from 3/4RS
(Unlike 5RS and 7RS, 4RS appear to have received very few OR reinforcements during the Campaign)
It is difficult to be accurate on exact casualties as they were not always detailed, particularly the wounded, in Battalion War Diaries at this time. Using post-war lists of those Royal Scots killed, however, and including those in the Gretna Disaster, perhaps the most chilling figures are those below, totalling the figures for 4RS, 5RS and 7RS in the eight months from April to December 1915. Note: A figure of 200 ORs has been deducted to reflect the members of 8HLI attached to 7RS as those killed are listed on their parent battalion roll.
Entrained/Embarked UK 93 officers 2833 ORs Total 2926
Killed 44 officers 786 ORs Total 830
% 47.3 27.7 28.4
It would be reasonable to expect at least two wounded for every one killed.
Summary
1915 was 'The year of the Territorial' for the Regiment. Apart from the 4/5th and 7th Battalions deployed in Gallipoli, 6RS deployed to Egypt and thence to Mersa Matruh, to the West of Egypt, where the local Senussi tribe where threatening problems, and the 8th and 9th Battalions were in France. In spite of, by today's standards, horrendous casualties and terrible living and fighting conditions, never once was a Royal Scots TF Battalion, or an individual Royal Scots Territorial, found wanting in their Service to King and Country.
NEMO ME IMPUNE LACESSIT