ONE OF MARLBOROUGH'S MEN, AN EIGHTEENTH-CENTURY SOLDIER.
Extracts from an autobiography published in Glasgow in 1728;
"The Expert Swordsman's Companion" or "The True Art of Self Defense"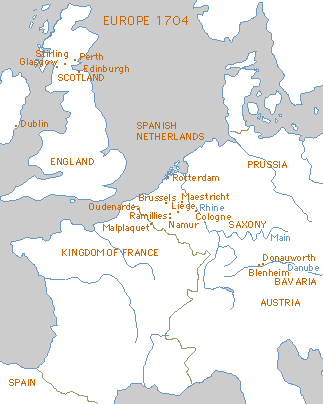 The author, Donald McBane, (also known as McBain) kept an ale-house and a School of Arms in London.
Donald McBane's book portrays with gritty realism the life of a soldier of The Royal Scots in Europe under Marlborough. The War of the Spanish Succession (1701-1714) was the first major "world" war of modern times. At first he tramped for seven weeks along the Rhine and the Main, over the Pass of Geislingen into the valley of the Danube, down that river to the Schellenburg, over that river into the heart of Bavaria, and back again to Blenheim village in the year 1704. Twenty years later at the age of 63 sat down to remember and write.
The full title of this now most rare book is: The Expert Sword-man's Companion; or the True Art of Self-Defence. With all Account of the Author's Life and his Transactions during the Wars with France. To which is annexed, The Arts of Gunnerie. Illustrated with 22 etched copper plates. By Donald McBane. Published Glasgow, 1728.
THE BEGINNINGS OF DONALD McBANE.
Donald McBane hailed from Inverness, and in 1687 ran away from his apprenticeship as a tobacco spinner to enlist in one of the Independent Companies within the Army, Captain Mackenzie's Company. He indulged in some fighting between the clans of Macdonald and Macintosh, who used sword and target, and Lochaber axes, and wooden-handled bayonets in the muzzle of the guns. When his company was disbanded he took service in Colonel Grant's Regiment in the pay of King William, who had to oppose the Highland clans fighting for King James at the Pass of Killiecrankie. Again his unit was disbanded, and he joined Colonel Forbes's Regiment, where an old soldier was ordered to take care of Donald and "manage his pay" for him, with the result that Donald saw little of it. When he complained to an officer he was told to fight out the dispute, as was the custom at that time.
Donald thereupon paid a sergeant for private instruction in swordsmanship, borrowed a sword,and then fought his "govenor", who beat him, took his sword and pawned it. Undeterred, Donald took more lessons in small sword versus broad sword, and another bout ended in Donald's victory – and his sword was returned. "I then became master of my own pay – and his likeways"
By 1692 Donald owned his own sword and practised at the fencing schools, publicly beating the other fencing scholars. Then, on a mission to escort a draft of soldiers bound for Flanders he got carried off from Leith (at Edinburgh) to Haversluys by mischance. From there he marched to Maestricht and thence to Brussels, where the British Army was camped. Here he attached himself to Lord Orkney's Royal Regiment and in 1695 as a Royal Scot he stormed Namur with the other British regiments and recovered from his wounds at Brussels. Next year, at Rotterdam, he was discovered by his former Captain, who exchanged Donald for two other men and took him back to Fort William.
In 1697 at the Peace of Ryswick his company was disbanded again so he went home to Inverness. he did not want to carry on with his apprenticeship , and so with his mother's blessing, twenty shillings and a new suit of clothes, he set out to seek his fortune. He got no further than Perth before he enlisted in the Earl of Angus's Regiment to serve as a pikeman. Shortly afterwards his corporal accused him of absence off guard, and punished him with a beating. Donald's honour as a soldier was at stake and he challenged the corporal to a duel. During the fight he gave the corporal a mortal wound, and because duelling was illegal had to flee for his life. But such was the code of honour at the time that his captain, and the dying corporal himself, aided his escape with money for a journey to Glasgow.
On the way he was caught by a recruiting party at Stirling who tried to "impress" him. But they had underestimated Donald and had to beg his pardon before hurrying off to get their wounds dressed.
At Glasgow he enlisted in the Royal Regiment of Scots, then stationed at Dublin. He marched from Carrickfergus, and, finding his pay very small, put on civilian clothes to court a young woman he met on the way. Soon he got into trouble with not only her "husband" but the landlord and constable too, and had to get away. Then when he reappeared with his comrades dressed in Army red livery, the "husband" finding he had to deal with a soldier, and fearing bloodshed, abandoned the unfortunate woman.
Donald became an assiduous student at a French school (in Dublin) where sword and foil often clashed until blood was drawn, and then a drink or two re-sealed friendship. The Royal Scots went from Dublin to Limerick and Donald was billeted at a farm. The farmer had a daughter who had twenty shillings to her name. Donald and his friends arranged for a priest and tricked her into believing she had married him. Her twenty shillings was spent on a wedding dinner and the rest spent on a few weeks good living until marching orders came.
At his next school Donald fell out with his master about his sister, and the usual duel ensued. So proficient a swordsman had our Royal Scot become that he set up his own school at Limerick. Then the regiment marched to Cork in order to embark for Holland. On the way it seems that Donald was seen as something of a liabilty by his captain who detailed a sergeant and four men to guard him in case he deserted. Actually the captain had misjudged; the escort deserted Donald.
THE VOYAGE TO HOLLAND.
The voyage from Cork to Holland took five weeks. Landing at Baslo in Dutch Brabant, he found there eight battalions of English, eight battalions of Dutch and Scots, and eight regiments of horse and dragoons. Our canny Scot hired quarters and set up a school for teaching the art of swordsmanship, and did a good business after he had fought a score of duels with rival fencing masters. He took a Swiss soldier as a servant and so got pupils among both Swiss and Dutch officers. Swiss soldiers mocked the English and called them beardless boys. A few murders "tolerated by their officers" brought on a sort of private war until the States General removed the Swiss to another garrison.
THE ARMY IN FLANDERS.
Donald writes: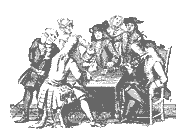 "I continued keeping my School. A short Time after I came to know that there was Four good Swords men in the Town that kept Women and Gaming, the Wheel of Fortune and Ledgerdemain (card tricks) by which they got vast Money. I resolved to have a share of that Gain, at least to have a fair Tryall for it. I Fought all the Four, one by one; the last of them was Lefthanded; he and I went to the Rampart where we searched one another for Fire Arms. Finding none, we drew and had two or three clean Turns: at last he put up his Hand and took a Pistol from the Cock of his Hat; he cocked it against his shoulder and presented it to me, upon which I asked Quarters, but he refused, calling me an "English Bouger", and Fired at me and run for it. One of the balls went through my Cravat . . . at last I overtook him over against the Guard and gave him a Thrust in the Buttocks; then I fled to the Fleshmarket; nobody could take me out there, it being a Priviledged Place. I tarried there till Night, then went Home to my Quarters and called for his Commerads that same Night, who agreed to give me a Brace of Whoors and Two Petty Couns a week. With this and my School I lived very well for that Winter."
The eighteenth century opened with Donald at Breda at a camp of pleasure where King William "received" The Royal Scots. Then, back to garrison, where he got married. He still kept his school, and his wife managed a "change house" and sold wine. "So we lived very well, and my wife was never jealous of me." In what way he earned his pay during these times of peace Donald does not disclose ; there is no mention of drill nor discipline, of dress nor duty.
The next year King William died and at the start of the War of Spanish Succession (1701-1714) Queen Anne conferred on the Duke of Marlborough the supreme command of Her Majesty's and the Dutch Forces.
DONAUWORTH
Donald apparently had no urge to leave lessons for military students, nor any complaints to make of his superior officers. To him it sufficed on the march to find plenty of good bread and wine. He appreciated the kindly folk who fired salutes from high castles as the Duke passed by with his cavalry, and he and his fellow soldiers helped to draw the train through the hilly roads of Wurtemburg.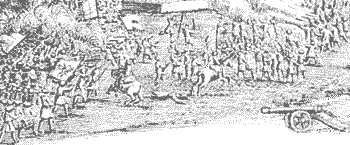 When they arrived at the Schellenburg, ten men from each company went to a wood to make fascines (bundled wood used in the construction of ditches and batteries), while the usual bombardment took place and British gunners set the village on fire. Then the men with fascines went forward to fill the trenches for the Horse to go over, and ten battalions of Foot and sixteen squadrons of Horse stormed the enemy's defence works and in four hours drove the Franco-Bavarians into the Danube at Donauworth. The town surrendered next day, the river was bridged and the way was open into "a plentifull country".
"The people fled and left their houses well furnished, we plundered and lived a jolly life… being in an enemies country we had liberty to do as we pleased in it. I resolved to set up my old way of living at the Duke of Marlborough's quarters. I got my commerads who waited on my command; we set up all sort of gaming tents; we had not above sixty campaign ladies in the Quarters."
Donald then found sixteen "professors of the sword", who procured reinforcements for the harem by snatching fourteen "brave Dutch lasses" from the enemy's quarters. When a rescue party came next day, there resulted a series of duels to determine whether the women should remain in one camp or the other. There was also a matter of tribute involved. Donald, being of the Royal, fought first.
"We buried our dead and parted. Two or three days after, we sent six pretty men to receive our tribute, but only two came back, and brought no money; the other four they shot. Our business went on and we prospered; at length I was ordered on a command. I left one to take care of my affairs, for I had always two men's share."
THE BATTLE of BLENHEIM, 1704
Donald's gives an account of the battle on August 13th. After the fight he was left for dead; he was stripped to his shirt by the Dutch; other plunderers then took the shirt and he nearly perished with cold and thirst.
"I drank several handfuls of the dead men's blood that I lay beside; the more I drank the worse I was."
Daylight brought relief. Men of his company looking for their wounded carried him off to a village, where he was made to vomit the blood he had drunk, and the surgeons dressed his wounds. The wounded still lay out in the fields under guard until wagons arrived to take them six leagues to a town, where the Grand Hospital was established to care for 4,000 casualties. Donald found money to employ a surgeon for himself and in a month he was about on his crutches. His first thought was to enrich himself by gaining a share of the spoils of a gaming table set up by an Italian in the German service. Again there was the usual fight. He writes, "…you may judge how the spectators did laugh to see two lame men fight". Donald became Master of the Pass Bank until he was discharged to duty and rejoined the army at Landau.
"We left the Emperor's army at Landau; our army marched down to Holland. I had the good fortune to go to my old quarters, where I set up my old Trade. At this time Her Majesty, Queen Anne, for our good service in that campaign ordered every man two guineas, which we called Smart Money."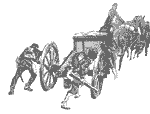 Apparently Donald could turn his hand to anything in the way of soldiering. Being just out of hospital at the time of the siege of Brussels by the Elector of Bavaria, he was put in charge of five pieces of cannon with sixteen men to assist him. He relates that it was customary to use 12 pounders in open country and 3 and 4 pounders in hilly country. There were wagons, tumbrils of ammunition, and shot carts (the axletrees all needing much grease), ladles, spunges, worms, powder-horns, priming irons, drifts, handspikes and crows, budge barrels, tinfunnels, etc., of which there was an inventory for a train of ten guns. Horses were allowed in proportion to weight, 2 cwt. per horse, and in hilly or deep country six men for each horse. Gunners and matrosses (assistant gunners) hauled at the traces or took the carriages to pieces and carried the guns on sledges. The artillery made their own bridges and repaired their own roads. Field guns were of brass and heavy guns (24 pounders) of iron, and nine or ten feet in length.
A DUELLIST'S "POKE"
The book recounts Donald's innumerable duels and shows him to have been a master of such skills as l'arme blanche; But in relation to todays accepted sport of fencing the swashbucklers of the eighteenth century had small regard for fencing manners. Donald remarks in a casual way of a certain thrust;
"This is what is called a Poke, which many find fault with. I would never make use of this Thrust but when engaged with a Ruffin or some person that I had a mind to kill, or was indifferent about the consequence of it."
One of the diversions then permitted to the British soldier was "Partizaning" where a member of a detachment of troops was sent on a special expedition. As money was to be made thereby, of course Donald was for it. He assembled thirty braves and obtained a warrant from the Duke's secretary which bade them take special care of themselves and return in ten days with a report of their actions. His expedition set out after dark, reached the rear of the French camp and hid in a wood by the highway three leagues from Namur. Presently a French colonel appeared with an escort of sixteen horsemen. Donald's expedition held up the French, who declined to surrender, so fire was opened. Four Frenchmen were wounded and the rest captured. Donald marched his captives before the secretary, who held them to ransom at the rate of eight gold coins or pistoles for each horse and servant, and twenty for the colonel.
After a few days' rest these Scots musketeers procured another warrant, and, proceeding as before, sent a spy into the French camp, who learned the hour at which the Household Cavalry were to go out to forage. The spy returned with the news and, dressed in an old Boor's (Flemish farmer's) coat with "forage cords" about his waist, actually pretended to assist the foragers. He then reported the route they took back to camp. The French marched in correct formation with advance and rear-guards, but Donald the tactician perceived the same flaw in the French arrangements as the Duke of Wellington later saw at Salamanca; a straggling formation.
"There was a great distance between the guards when I viewed them in the hollow of the highway. I thought fit to attack them in the centre, which we did and took sixty of their horse. One of them fired… we went off with all speed, for that shot alarmed the camp."
Coming near Brussels, Donald espied three squadrons of French horse. He opened fire and then made a dash for a Boor's yard that was strongly fenced. The Scots fired ten shots apiece while the dismounted dragoons were cutting through the fence hedging with their swords. After losing fourteen men Donald's soldiers ran for it, and found safety in a wood. Soon after, they observed sixty French, taking shelter from the rain, their arms stacked. Donald opened fire so suddenly that the French ran and left their arms standing. Pursuit resulted in the capture of a French officer and twelve men. Tying them up in couples, Donald took the flints out of their guns and made the prisoners march with shouldered arms to the nearest town, where liquor was obtained and the firelocks sold for half-a-crown apiece. Thence to Brussels and the Governor, who paid a crown a man for the prisoners, and four crowns for the officer. In turn the Govenor intended, of course, to hold them for exchange or ransom according to the custom of war at that time. Donald, having reported to the, secretary, dismissed his soldiers and went to look after his private affairs.
"Alas! Two of the men that I trusted with my affairs had carried away two of my ladies to their own quarters, which obliged me to fight them both, so they carried the ladies home again."
MALPLAQUET
McBane's recollections of Malplaquet – Malplackie, as he calls it – are of being ordered to prayers;
"the wicked French with their cannon obliged us to make our prayers Short"
then of the dram of Genever (gin) which the Duke provided; and then of a horse which he bought from an officer for four pistoles. This apparently fine animal nearly got him hanged, for, riding gaily to the rear he fell in with some Dutch dragoons who although of course fighting on the same side pulled him off:
"Then I drew my spadroon (the long, heavy two-handed sword usually worn slung across the back without a scabbard) and held the bridle in my left hand. They drew upon me. I defended as I could… I ran to the Bread guard and delivered my sword to the serjeant, and told him I was his prisoner, and the crimes I had committed within the liberty of his centries. I asked for his officers. He told me they were at dinner. I desired him to save me from the Dutch guard, and to send me to our own regiment, and to send an account of my crime with me. In the time I was speaking with him the Dutch Guard came, and he delivered me to them without acquainting his officers, for which he was broke. The Dutch used me most barbarously."
They cut the headband of his breeches so that he could not run, and presented him before a Dutch brigadier, who swore he would hang him as soon as he had dined. An officer appeared with nails and ropes. Donald feared all was lost, when the Earl of Orkney's "Edecamp" (Aide de Camp) Major Whitney, came that way and was told of the entertainment proposed "in putting an end to the life of an English bouger". The Major however, pacified the brigadier with a bottle of wine, and meanwhile sent his servant to the Royals for an escort, who carried off Donald to the quarter guard. Next morning he was tried before General Wood and acquitted, his accusers having to pay fourteen pistoles for the horse – which had escaped during the racket.
He reports another incident at Malplaquet the kind of which does not tend to appear in official despatches: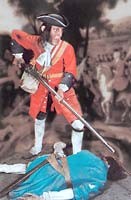 "I had two children at this time. Our wives were far in the rear. My wife gave my little boy to a commerad's wife who had a horse. The woman, hearing her husband was dead, rode until she saw me in the front of the line; then she threw the boy at me. I was obliged to put him in my habersack: He was about three years of age. As we were inclining to the right, the boy got a shot in the arm. I then got a surgeon and dressed it. I had neither bread nor drink to give him. I got a dram to him from an officer and a leg of a foul; then he held his peace and was very quiet all night ; in the morning his mother took him from me."
Donald seems to have lived on very good terms with his Captain, who lent him eight crowns to buy a barrel of beer to sell by retail to the troops. After a period of absence due to the side benefits of this trade, "My captain made me very welcome and gave me my pay for the whole time I was away from the company."
On another occasion he was captured asleep by a French Dragoon, who took his sword from him and told him to hold his horse while he relieved himself. But "when his breeches was down" Donald mounted the horse and made a quick escape.
"I came, to the Front where our Royal Regiment was. When my captain saw me he was amazed, saying he never thought to see me again. I told him the whole story which pleased him well. I sold the horse and accoutrements for Twelve Pistoles."
This captain appears to have been a long-suffering man. At Buschean (Bouchain) Donald fell out with some Dutch at the gaming tents. Swords were drawn and "some-thing extraordinary happened". Donald had to flee to his captain, who packed him off to Dowie (Douai) to save his skin. On the way he met a lady at a hotel, who made herself agreeable until Donald was asleep and then departed with his money and his breeches. Then he had a mauvais quatre d'heure with the landlord and was held in pawn until his captain came to the rescue with new breeches and money to settle the hotel bill.
When the Duke besieged Luke (Liège), the city surrendered at once, but the citadels held out and Donald McBane tells how they were taken:
"Being near the end of the Year our army laid siege to the great city Luke. They surrendered to his Grace immediately but the two citydales stood it out. One of them was on the top of a hill, it was the strongest and we attacked it first. In ten day's time we were in readiness, then we began to play our cannon and morter pieces. Before we cut out our trenches we were within ten yards of their pallasades. Our cannon beat down their walls in three day's time, our morters burnt down their houses. The Governour beat a parley and promised to deliver the citydale to His Grace against ten a clock next morning. That night the Governour sent to the other fort desiring assistance from it.
"The Governour desired him to hold it out another day and he would send to his relief. Next morning about nine a clock the Governour hanged his coffine over the wall (or "nailed his own coffin") and fired upon our trenches. Then we fired all our guns and morters, we destroyed a great many of them.
"About three a clock afternoon the Duke of Marlborough came to the Grand battery, he commanded twenty Granadiers of each company through the whole army and ten battalions of the first troops to storm the fort sword in hand. Our Orders was to give no quarters to none within the fort. We made all ready for the attack, every Granadier had three grannads. Our word was 'God be foremost', when we came we came with a loud huzza and fired our granads amongst them and small shot without number. We continued thus for an hour and a half, then we jumped over the palasados we then made use of our swords and bayonets and made a sore slaughter upon the French, which obliged them to cry for quarters. Although it was against orders we had mercy upon our fellow creatures and turned them all behind us. Then the Dutch used them as they pleased. They hung out their flag, in several places crying for quarters but none was given. This caused them to take courage and beat us two time from the bridge. Then our morters began to play anew. I was one that made the attack at the sallieport. An officer at the head of his platoon kneeled down and asked quarters. I gave it him and took his sword being mounted with silver. After we took the sallieport the officer took me to a cellar under the wall where was ten or twelve trunks full of gold and money. He gave me eleven bags of it for saving his life, what I got was all pistole pieces. I made all speed I could to my company where they were tumbling over the wall all the carcassus that were loaden with hand granades. I took up one of them with design to throw it amongst the enemy but it prevented me and broke in my hands and killed several about me and blew me over the pallasades, burnt my cloaths about me so that the skin came off me. I and my gold fell among Murray's company of granadeers, I was stead like an old dead horse from head to foot, they cast me into water to put out the fire about me. The fort was taken and plundered; our army got the money that was to pay the French army."
THE ROYAL HOSPITAL.
Donald McBane served in the Royal Regiment till the end of the war in 1712, and was recommended by his Colonel for "Chailcie College" (Chelsea Hospital). But at the Jacobite Rebellion he left the College and enlisted in General Honeywood's Regiment of Dragoons, where he was made a sergeant and guarded the Colours at the Battle of Preston. Again he was recommended for Chelsea, but preferred another job as a gunner at Fort William.
In 1726 he was duelling at Edinburgh and gave his antagonist seven wounds and broke his arm with a fauchion – a short broad sword, curved sharply to a point. "This I did at the request of several noblemen and gentlemen", he says. Donald was now 63 and resolved to fight no more, "but to repent for my former wickedness".