GALLANTRY AWARDS WON BY ROYAL SCOTS IN WW1
During the war six members of the Regiment were awarded the Victoria Cross, and one to Lance Corporal William Angus 8th Battalion The Highland Light Infantry, whilst attached to 8RS, all of them for actions in France. Their details, and the actions for which they were awarded the VC, are given below.
In addition to those awarded the VC, 32 Royal Scots were awarded the Distinguished Service Order (DSO) of which three were awarded bars (a 'bar' is a second or further award of the same medal, but for different actions) and one, Lieutenant Colonel J A Fraser of the 5/6th Battalion, two bars; 217 the Distinguished Conduct Medal (DCM), including five with a bar; 158 the Military Cross (MC) including 13 with a bar and one, Captain J A Edwards of the 10th Battalion, two bars; and 337 the Military Medal of which 11, including Pte McIver VC, won bars.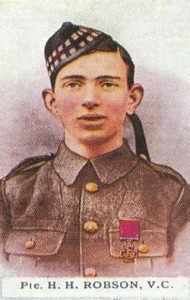 Private H.H. Robson, 2nd Battalion The Royal Scots
Private Henry Robson, a native of South Shields, County Durham, was a Regular soldier who joined the 2nd Battalion in 1912 and moved with them to France on the outbreak of war. His citation records the detail of his action as:
"For most conspicuous bravery near Kemmel on the 14 December 1914, during an attack on the German position, when he left his trench under a very heavy fire and rescued a wounded non-commissioned officer, and subsequently for making an attempt to bring another wounded man into cover, whilst exposed to severe fire. In this attempt he was at once wounded, but persevered in his efforts, until being rendered helpless by being shot for a second time."
After recovering from his wounds Robson returned to the Battalion. He was again severely wounded, still with the 2nd Battalion, at Serres-en-Ancre on 13 November 1916. He recovered again but never returned to the Front and later served in the Labour Corps. After the war he went back to the Merchant Navy, in which he had served before enlisting. In 1923, after being signed off, he sold his Victoria Cross for £80 to pay for his passage to Canada where he became a tram (streetcar) conductor. In 1934 he entered the civil service, working in the Parliament Buildings in Ontario. He rose to Sergeant at Arms of the Ontario Legislature and then information clerk showing visitors around the Parliament buildings. He died in Toronto, Canada in 1964, aged 69 and is buried in the Military Section of York Cemetery in Toronto.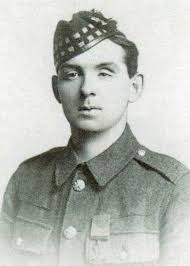 Lance Corporal William Angus, 8th Battalion The Highland Light Infantry attached 8th Battalion The Royal Scots
Lance Corporal Angus's Citation reads:
"For most conspicuous bravery and devotion to duty at Givenchy on 12 June 1915, in voluntarily leaving his trench under heavy bomb and rifle fire, and rescuing a wounded officer who was lying within a few yards of the enemy's position."
Lance Corporal Angus, although born in Armadale, West Lothian, came from Carluke in Lanarkshire, and was a pre-war Territorial serving with 8th Battalion The Highland Light Infantry. An officer in the same Company, and also from Carluke, was Lieutenant Martin. The 8th Battalion, Highland Light Infantry was broken up in December 1914 and its Companies attached to other Lowland Territorial Battalions to bring them up to strength for overseas service. One company went to the 7th Battalion The Royal Scots and a second, Angus and Martin's, to the 8th Battalion.
Lieutenant Martin had been wounded in a night trench raid on 11-12 June and, despite searches, could not be found. As dawn broke he was seen lying, half buried under loose earth, immediately below the German parapet some 70 yards away. The whole company volunteered to rush the German trench at dusk to rescue the officer but it was realised that, lying without water under the boiling sun, the officer would probably be dead by then. The Commanding Officer agreed at midday that one man could attempt a rescue and Lance Corporal Angus was chosen from a number of volunteers. At 2pm he left his trench, under heavy covering fire, and reached Lieutenant Martin unobserved and got him out of the loose earth. Angus, it was reported, then propped Lieutenant Martin up against the German parapet and proceeded to give him a swig of brandy from a flask that he had carried with him! The Germans realised what was going on and let fly with "bombs" (hand grenades). Angus, supporting Martin, then dashed back to the Battalion's trenches but was wounded no less than 40 times en route. Amazingly he made it, with Lieutenant Martin, to safety. Lance Corporal Angus, who had been warned when he volunteered to carry out the rescue that "its certain death, lad" was awarded the Victoria Cross, the first Scottish Territorial to win the award. Both Lance Corporal Angus and Lieutenant Martin survived the War with the former dying in Carluke, where a road is named after him, in June 1959, aged 71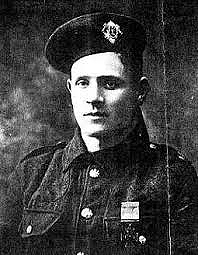 Private R Dunsire 13th Battalion The Royal Scots
Private Robert Dunsire was born at Buckhaven, Fife in 1891. The family moved to Kirkcaldy where he became a miner. He enlisted in January 1915 and, after training, was posted to the 13th Battalion.
He was awarded his Victoria Cross
"For most conspicuous bravery on Hill 70 on 26th September 1915. Private Dunsire went out under very heavy fire and rescued a wounded man from between the firing-lines. Later, when another man considerably nearer the German lines was heard shouting for help, he crawled out again with utter disregard to the enemy's fire, and carried him in also. Shortly afterwards the Germans attacked over this ground."
Private Dunsire emerged unscathed from both these rescues but, by then a Corporal, was mortally wounded in a trench mortar attack whilst in the trenches at Hulluch in the Loos sector on 31 January 1916. He is buried at Mazingarbe Communal Cemetery in France.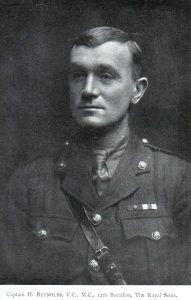 Captain H Reynolds, MC, 12th Battalion The Royal Scots
Captain Henry Reynolds was born in Northamptonshire. There is some confusion over the actual year, and dates vary from 1879 to 1882. He was, however, already approaching his mid-thirties, and married when he joined the Northamptonshire Yeomanry in October 1914. Commissioned into the 14th (Reserve) Battalion The Royal Scots in July 1915, he was posted to France in August 1916. Promoted Lieutenant in May 1917, and to Captain in July, he was awarded the Military Cross "for a series of actions on 12 April 1917, which meant being under artillery, machine gun and rifle fire for a considerable time". His award of the Victoria Cross was gazetted on 8 November 1917 and read:
"Henry Reynolds MC, Temporary Captain, 12th Battn Royal Scots. For most conspicuous bravery when his company, in attack and approaching their final objective, suffered heavy casualties from enemy machine guns and from an enemy 'pill-box' which had been passed by the first wave. Capt Reynolds reorganised his men who were scattered, and then proceeded alone by rushes from shell-hole to shell-hole, all the time being under heavy machine-gun fire. When near the 'pill-box' he threw a grenade, intending that it should go inside but they enemy had blocked the entrance. He then crawled to the entrance and forced a phosphorous grenade inside. This set the place on fire and caused the death of three of the enemy, while the remainder, seven or eight, surrendered with two machine guns. Afterwards, though wounded, he continued to lead his company against another objective, and captured it, taking seventy prisoners and two more machine guns. During the whole attack the company was under heavy machine-gun fire from the flanks, but, despite this, Capt Reynolds kept complete control of his men."
Captain Reynolds was later recommended for a Regular Commission by his Commanding Officer as follows:
"Capt H Reynolds served under my command in France during the greater part of 1917.
He is one of the most capable and conscientious officers that I have ever had under my command; he is attentive to every detail in connection with his company; has a sound knowledge of training and interior economy, and his company was always clean, smart, well turned-out, thoroughly trained and efficient, and always willing and ready to take part in any action.
Capt Reynolds is a physically powerful man, capable of standing any amount of strain, and his unusual sense of duty was so pronounced that in action he was invaluable.
He was awarded the Victoria Cross for a series of actions on 20 Sept 1917, at Zonnenbeke, every one of which meant facing a terrible fire for a considerable period, and the Military Cross for a similar series on 12 April 1917.
I can confidently recommend him for a commission in the Regular Army, and suggest that a special preference be given to him, so that his commission may be dated back as early as possible.
(Signed) "J A S Ritson
Lieut-Colonel
12th Battn The Royal Scots
7 March 1919"
He transferred to the 2nd Bn The Loyal Regiment in 1920 and retired from the Army in 1927. In 1930, he became Superintendant and Steward at the Sir Frederick Milner Home, Beckenham, Kent. He remained there until his death at Carshalton, Surrey in March 1948 And is buried at St Giles's Churchyard, Ashtead, Surrey. His son Lieutenant Thomas Reynolds, also served in the Regiment but was killed in a traffic accident at Quetta, in India, in 1931 while with the 2nd Battalion.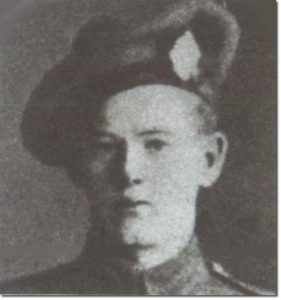 Private H McIver, MM and Bar, 2nd Battalion The Royal Scots
Private Hugh McIver was born at Linwood in Renfrewshire on 21 June 1890. He worked as a miner before joining the Army on 18 August 1914. He was posted to the 2nd Battalion in France on 11 May 1915. He won the Military Medal on the Somme for actions on 14 July 1916 and a bar to it, for daring and initiative during daylight patrols in enemy lines, on 1 July 1918. The citation for his Victoria Cross recorded:
"Hugh McIver, No 12311, Private, late 2nd Battn The Royal Scots. For most conspicuous bravery and devotion to duty when employed as a company-runner east of Courcelles-le-Comte on 23 August 1918. In spite of heavy artillery and machine-gun fire, he carried messages regardless of his own safety. Single-handed, he pursued an enemy scout into a machine-gun post, and having killed six of the garrison, captured twenty prisoners with two machine guns. This gallant action enabled the company to advance unchecked. Later, he succeeded at great personal risk in stopping the fire of a British tank which was directed in error against our own troops at close range. By this very gallant action Private McIver undoubtedly saved many lives."
McIver was killed in action 10 days later on 2 September. His Company Commander wrote to his mother a few days later:
"2nd Battn The Royal Scots,
8 Sep 1918
My Dear Mrs McIver
I am writing these few lines to you to try and express, both on my own behalf and also for the men of my company, our greatest sympathy for you in the loss of your son Hugh in the recent fighting.
It came as a great blow to me, as he was my personal orderly, and he was quite close to me when he was killed. We were going up a hill, attacking some machine guns, when he was killed by a bullet, and it may soften your blow a little to know he never felt it.
It is only about ten days since I recommended him for the Victoria Cross, and it is quite likely that it will be awarded to you, and if ever a man deserved the VC, Hugh did, as he was one of the best and bravest boys in the battalion; in fact, the bravest I have ever known.
I am sending on to you his Military Medal and rose, which I cut off his breast for you. His other personal effects will follow later.
I can only say, Mrs McIver, that your son died a hero's death, and he has left a record in the battalion second to none. Again expressing my deepest sympathy to you and yours,
I am
Yours very sincerely
(Signed) ALICK GORDON, Capt
Officer Commanding, C Company
2nd Battn The Royal Scots"
His parents received his Victoria Cross from King George V at Buckingham Palace on 13 February 1919. McIver is buried at Vraucourt Copse British Military Cemetery, North East of Bapaume.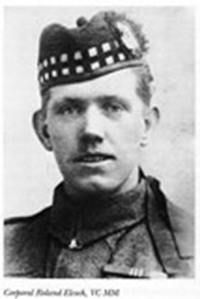 Corporal R E Elcock, MM, 11th Battalion The Royal Scots
Corporal Roland Elcock was born at Wolverhampton on 5 June 1899. He enlisted underage in the South Staffordshire Regiment and was posted to France on 28 June 1915 just after his sixteenth birthday. When it was discovered that he was underage he was sent home and discharged. He was employed with Wolverhampton Corporation Electricity Works and re-enlisted, into The Royal Scots, on his eighteenth birthday in June 1917. Before he was 19 he had won the Military Medal and been promoted to Corporal. The citation for the action in which he won the Victoria Cross read as follows:
"For most conspicuous bravery and initiative, south-east of Cappelle St Catherine on 15th October 1918, when in charge of a Lewis gun team. Entirely on his own initiative, Corporal Elcock rushed his gun up to within ten yards of enemy guns, which were causing heavy casualties and holding up the advance. He put both guns out of action, captured five prisoners and undoubtedly saved the whole attack from being held up. Later, near the River Lys, this NCO again attacked an enemy machine-gun and captured the crew. His behaviour throughout the day was absolutely fearless."
His Victoria Cross was presented, along with Pte McIver's, at Buckingham Palace on 13 February 1919. After the war he was re-employed by Wolverhampton Corporation Electricity Department. He later went to India in the Posts and Telegraph Service working in Upper Burma as divisional engineer and then, on promotion, to be Director-General of Posts and Telegraphs on the North-West Frontier. He joined the Indian Army on the outbreak of the Second World War in the rank of Major but, as he was about to be posted overseas, he became ill. He never recovered and died at Dehra Dun, where he is buried, on 6 October 1944. His grandson, Private Christopher Owens, served with the 1st Battalion in the Gulf War in 1991.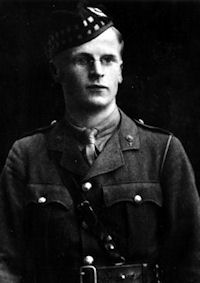 Lieutenant D S McGregor, 6th Battalion The Royal Scots, attached Machine Gun Corps
Lieutenant David McGregor was born in Edinburgh on 16 October 1895. Educated at George Watson's and George Heriot's he was an apprentice of the Commercial Bank of Scotland and had joined the Midlothian Royal Field Artillery (Territorial Force) in 1913. When war broke out he volunteered for overseas service and was commissioned into the 6th Battalion in 1915. He was posted to Egypt in May 1916 from where he was immediately transferred to France with the Battalion. He served on the Somme during the summer of 1916 before volunteering for machine-gun work. After training he was posted to the 29th Battalion of the Machine Gun Corps with whom he was serving when he won his posthumous Victoria Cross. His citation records:
"David Stuart McGregor, Lieut, late 6th Battn Royal Scots (Territorial Force) and 29th Battn Machine Gun Corps. For the most conspicuous gallantry and devotion to duty near Hoogmolen on 22 Oct 1918, when in command of a section of machine guns attached to the right flank platoon of the assaulting battalion. In the assembly position he concealed his guns on a limber under the bank of a sunken road. Immediately the troops advanced at zero they were subjected to intense enfilade machine-gun fire from Hill 66 on the right flank. Lieut McGregor fearlessly went forward into the open to locate the enemy guns, and having done so, realised that it was impossible to get his guns carried forward either by pack or by hand without great delay, as the ground was absolutely bare and swept by a hail of bullets. Ordering the team to follow by a more covered route, he went to the limber, got on to it, and, lying flat, told the driver to leave cover and gallop forward. This the driver did, galloping down about six hundred yards of absolutely open road under the heaviest machine-gun fire into cover beyond. The driver, horses and limber were all hit, but Lieut McGregor succeeded in getting the guns into action, effectively engaging the enemy, subduing their fire and enabling the advance to be resumed. With the utmost gallantry he continued to expose himself in order to direct and control the fire of his guns, until, about an hour later, this very gallant officer was killed whilst observing fire effect for the Trench Mortar Battery. His great gallantry and supreme devotion to duty were the admiration of all ranks, and especially the officers and men of the 1st Border Regt, who witnessed this extraordinary action."
Lieutenant McGregor is buried in Staceghem Communal Cemetery, Harlebeke, Belgium. His parents received his Victoria Cross from King George V at Buckingham Palace on 15 February 1919.