Leith Ex-Servicemen's Club,
7 Smith's Place,
Edinburgh,
EH6 8NT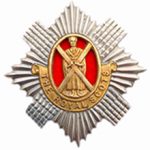 Meets on the last Friday of each month, 8pm
Contact: Mags Allen
Chairman: Eddie Welsh
Secretary: Mags Allan
Treasurer: Michael McCann
___________________________
Branch Meeting:
Fri 20th January 2017 2000hrs
In Leith Ex Servicemen's Club.
Present: 17
Apologies: 13
Absent:
New Member: 2 Steve Murphy
John Mac Pherson
Visitors:
Sick:
A minute's silence was held for those no longer with us.

Memberships
Members were reminded that Memberships were due for renewal Members who pay by Direct Debit please make sure your payment come out. those who pay by Direct Debit are asked to cancel their direct debit after this year's payment has been paid new forms will be available shortly.
Burns Night
Once again, our Burns Night was a great success a big thank you to all those who helped make it a successful night thanks to Tam Douglas Jimmy Ovens Shelia and her dancers Murray and Jimmy McKeown Andy McLean and his six press gang jocks the kitchen and bar staff all those from the fatigue party who turned up to help prepare for the night.
Edinburgh Veterans Group Meeting
This will take in Leith Ex Servicemen's club at 1200hrs this meeting is open for all to attend
Quarterly Meeting
This will take place on Sunday the 12th February at 1100hrs the Royal Scots Club
Regimental Dinner Night
This will take place on Saturday
the 25th March in the Royal Scot Club tickets available from Tam Douglas. Branch Members who support the Branch can purchase their tickets from Mick McCann where a discount can be given cost of the tickets are £30 each.
Regimental Reunion
This will take place on Saturday the 29th April 2017 and will be held in the Royal Scots Club.
Members would like to give a huge thank you to Mick and Shirley McCann for organizing for a first-class night a great night was enjoyed by everyone.
Bowling Day
We are still waiting on the bowling club getting back to us with dates.
Christmas Night
Branch Christmas Party will be held on the 9th December in Leith Ex Servicemen's Club more details to follow.
Date of next meeting
This will be the 25th February in Leith Ex Servicemen's Club at 2000hrs.