Hillcroft Hotel,
Whitburn,
West Lothian,
EH47 0JU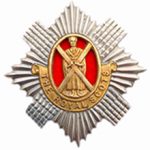 Meets on the first Sunday of each month at 2:00pm
Contact: David Milne
Chairman: Andy Kyle
Secretary: David Milne
Treasurer: Derrick Cumming
Branch Meeting:
Sunday 4 June 2017 at 1400 hrs
Hilcroft Hotel Whitburn
Present; 9
Apologies: 6
New Member 0
Visitors 1
Sick 0
Opening Remarks
The Chairman opened the meeting by welcoming all present. J Green proposed the previous minutes as read seconded by P Robertson. This was carried.
A minute's silence was held for those no longer with us.
Business
The chairman welcomed our visitor to the meeting Mr Jimmy Nesbit.
Regimental Dinner
The Dinner night was very well attended this year, with nearly a maximum turn out. Look forward to next year's. Thank you was given to the staff at The Royal Scots Club for their hospitality and warmth.
Announcement
Paul informed all in attendance he would be standing down as the Branch Chairman. He then announced that he would be taking up the post as Association Treasurer. You did a grand job while you held the position and we look forward to our new Branch Chairman.
All members would like to wish Paul all the very best in his new appointment.
The Branch then held a vote on who would take over the post of Branch Chairman. It was a close vote and we are happy to announce that Mr Andy Kyle was voted in for his second tenure as Branch Chairman.
For sale!!!
The Regimental Office have a few 7th/9th ties for sale. These are now selling at a cost of £5.00. If you would like to purchase one, please speak to Paul Robertson direct.
Forecast of Events
Earl of Haig Flanders day, Sunday 18th Jun 17, Standards on Parade.
West Lothian Armed Forces Day Friday 23rd June 2017 1800hrs to 2100hrs at Almondvale Boulevard Livingston.