Hillcroft Hotel,
Whitburn,
West Lothian,
EH47 0JU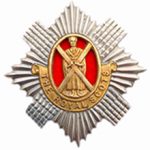 Meets on the first Sunday of each month at 2:00pm
Contact: David Milne
Chairman: Andy Kyle
Secretary: David Milne
Treasurer: Derrick Cumming
Branch Meeting:
Sunday 4 June 2017 at 1400 hrs
Hilcroft Hotel Whitburn
Present; 12
Apologies: 5
New Member 0
Visitors 0
Sick 0
Opening Remarks
A minute's silence was held for those no longer with us.
Business
Crossbelts
Paul Robertson gave an update on the purchase of the Branch Crossbelts. He informed all present that they should be ready in approximately six weeks.
Booze Cruise
4 members will be attending the Annual Highland Branch Booze Cruise this year. David Milne will get in touch with Derrick Cameron and inform him of our branches attendance and send a cheque for the payment of the 4 tickets.
Fund Raising/Charities
Paul Robertson raised the subject of charities. He suggested that if anyone within the branch is doing a charity fund raising event to consider putting or offering some of their monies raised to the Royal Scots Benevolent Fund. After all Charity Begins at Home.
Forecast of Events
West Lothian Armed Forces Day Friday 23rd June 2017 at the Almondvale Boulevard Livingston.
Armed Forces Day Edinburgh, Saturday 24th Jun 17. Meeting up at Johnstone Terrace at 1100 hrs.
Earl Haig, Founders day, Sunday 18th Jun 17 at 15:00, Central Branch Standards will be on Parade.
Date of Next Meeting
Sunday 2nd Jul 2017 at 1400 hrs
Hilcroft Hotel Whitburn