Hillcroft Hotel,
Whitburn,
West Lothian,
EH47 0JU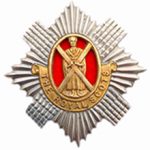 Meets on the first Sunday of each month at 2:00pm
Contact: David Milne
Forecast of Events
WEST LOTHIAN ARMED FORCES DAY 2017 Friday 23rd June
When
6:00 pm to 9:00 pm
Location
Howden South Road,
Scotland,
EH54 6FF
We have a fun-packed event being planned with a variety of entertainment items (performances from local artists), activities (e.g. climbing wall, inflatable assault course, etc.), demonstrations (by the local Cadet Forces), information stalls (from service-related organisations and charities), parade, beating the retreat and ceremonial sunset.
The event is a public event to allow the community of West Lothian to "Show Your Support" for our Armed Forces.
More details to follow.
Chairman: Paul Robertson
Secretary: David Milne
Treasurer: Derrick Cumming
___________________________
Branch Meeting
Hillcroft Hotel Whitburn.
Present: 10
Apologies:
Absent: 6
New Member:
Visitors:
Sick:
Opening Remarks
Paul Robertson opened the meeting by welcoming all present B Mc Geachie proposed the previous minutes as read seconded by B Millar this was carried
A minute's silence was held for those no longer with us.
Business
The Chairman welcomed our visitor Mr Andy Keane to our Meeting.
Quarterly Meeting
The date of the next quarterly meeting is on Sunday the 12th February 2017 at the Royal Scots Club
Burns Supper
The Chairman would like to show his appreciation to all those involved in yet another successful Burns Night.
Branch Flags
Paul informed the meeting that we will cost flag poles (8ft) which will suit our new flags and also new flags carriers the cost will be discussed at the meeting
Upcoming Dates
Royal Scots Association Dinner night
This will be held on Saturday the 25th of March 2017
Regimental Reunion
This event will be on Saturday the 29th April 2017 at the Royal Scots Club.
Armed Forces Day West Lothian
the 23rd of June 2017 at Almondvale Boulevard This will be held on Saturday Livingston.
Date of next Meeting
This will be held on Sunday the 5th March 2017 at the Hillcroft Hotel Whitburn.